Islamic group upset govt has rejected call for Jihad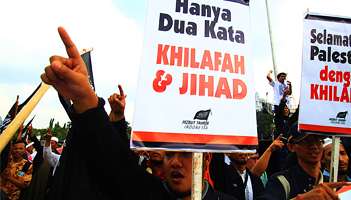 KUALA LUMPUR: Hizbut Tahrir Malaysia, part of an international pan-Islamic political organisation, has expressed its dissatisfaction with the government for not embracing the holy concept of Jihad or struggle that Islam places great importance on.
While praising the Islamic Development Department's (Jakim) move to explain the true meaning of Jihad to Muslim students at universities and colleges, it lamented that the government itself had rejected the call to Jihad and was preventing others from doing so too.
In a posting on its official website, Hizbut Tahrir said, "Jihad is seen as the highest form of action by a Muslim and a part of Islamic law that has many attributes.
"So why the need to worry when our youth are attracted to this call in Islam?" the organisation asked.
They said what was more worrying was the hedonistic tendencies of our youth today who were influenced by the West's penchant for drugs, alcohol, concerts and free mingling as witnessed during the recent K-Pop concert where tudung-wearing girls let foreign artistes hug them on stage.
"This is the kind of hedonistic culture that the government should worry about and eradicate," they said.
Expounding on the virtues of taking up the call for Jihad, from its preparation to building a weapons industry and eventually fighting enemies in the field, Hizbut Tahrir said it was every Muslim's duty to defend Islam against the disbelievers or infidels just as was practiced by the messengers of Islam in the past.
They said that should Malaysian youth want to answer the call of Jihad, the government should not prohibit them from doing so but instead take pride in them and provide them with all they needed to sharpen their skills to the fullest of their abilities.
They cautioned that if the government continued to thwart their freedom, confused youth would instead choose their own paths when in essence it was the government's duty to provide them with all that was necessary to study the proper ways of Jihad.
Source: freemalaysiatoday.com